We may earn commission from links on this page, but we only recommend products we back.
Tested: The Best Car Ramps for 2023
Sick of the old jack-stand hustle? There is a quicker way. Elevate your oil changes with a solid set of automotive ramps.
Tested By Katherine Keeler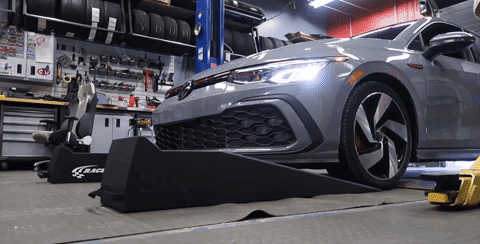 Gannon Burgett
|
Car and Driver
Gearheads know that changing your oil is DIY Maintenance 101. Whether you're new to wrenching, a seasoned veteran, or are sick of getting upsold by the local quickie oil-change shop, a set of car ramps can transform the common oil change into a quicker affair.
With automotive ramps, you can find yourself in service position within seconds. In addition to their simplicity, ramps are more stable and far friendlier to rusty pinch welds, fiberglass bodies, and low-profile cars. Say goodbye to the tiresome jack-stand boogie and hello to the quick driveway oil change.
---
Our Top Picks
Things to Consider When Purchasing Car Ramps

Weight Rating
You absolutely do not want to exceed this number. Safety is paramount when working under a lifted vehicle, so ensure each corner of the vehicle you're lifting is under the ramp's stated maximum. If you haven't weighed your vehicle like we do for all of our test vehicles, you can use the Gross Vehicle Weight Rating (GVWR) of your vehicle as a proxy. This is on a placard that's usually located in the driver's-side doorjamb. It is important to note that the weight rating is for the entire vehicle; there are also GAWR (gross axle weight rating) figures, and you can take the number for the axle you're lifting and divide by two. This includes the vehicle's weight plus the maximum amount of cargo allowed, so should leave a comfortable safety margin. For example, if a vehicle has a 5000-pound front GAWR, it actually means each ramp should not exceed 2500 pounds per ramp, or 5000 per pair.
Clearance of Vehicle
For low-profile-car owners, the angle of approach is critical in order to avoid scraping the nose of the car. Race Ramps suggests you use the yardstick method to determine the minimum angle you'll need for your car. First, shove a yardstick beneath the front of your front tires. Next, lift the yardstick directly up until you hit the nose or underbody of your car. Measure how far off of the ground the yardstick is, enter that number into the calculator and voila, you've got your maximum angle of approach.
Tire Width
Your tires should fit securely onto the width of the ramps; you do not want your tires to hang over the edges. Compare the width of the ramps you're considering to the width of your tires before purchase. Most tire sizes are in a XXX/YYRZZ format, where those first three digits are roughly its width in millimeters. You can also look up your tires' specs on a site such as Tire Rack.
Storage/Carrying Solutions
One downside to ramps is that they aren't exactly small. Some nest together, effectively halving the amount of storage space you'll need to carve out; others simply stack wherever you can find room in the garage. Still others are intended to be bolted down, so you'll need to consider where they will live for their lifetime. Lastly, consider how the ramp is carried: Does it have handholds cut into the ramp itself? Carrying straps? Or are you lugging it around like an unwieldy pet?
Location of Ramp Use
Ramps will behave differently depending on their location of use. Ideally, you should always use your ramps in a straight line on a clean, flat surface—never on a significant incline or slope, and not while the wheels are turned. If you are using your ramps on a smooth surface, such as finished cement, consider products that double down on traction, such as rubber mats.
How We Evaluated Car Ramps
When testing car ramps, we opted for a sensible approach, determining which ramp worked best for each situation and rating them on that metric. We took detailed notes on their specs and began our testing to confirm the following capabilities:
Weight Rating

Angle of Approach
Ramp Height
Oil Drain Plug Access
Weight of Ramps
Storage/Carrying Solutions
Slipping or Movement
Stability
We compiled our notes to decide which car ramps are best for each application, narrowing down our top picks to seven standouts. Here are the best car ramps, as determined by the Hearst Autos Gear Team.
---
Advertisement - Continue Reading Below
Advertisement - Continue Reading Below
How We Evaluated Car Ramps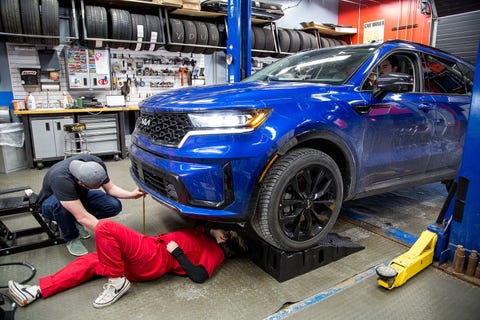 Gannon Burgett
|
Car and Driver
Here at Car and Driver HQ, we love a good opportunity to put our fleet cars to the test—any test. On a dreary March Tuesday, the testing team selected two cars on which to test these ramps: a Volkswagen GTI to evaluate low-profile ramps and a Kia Sorento for more traditional vehicle clearance.
We drove these vehicles up each set of ramps, noting any slippage or pushing (of which we witnessed none—perhaps thanks to our textured vinyl garage flooring). After we secured the car on a ramp with chocks behind the rear wheels, we then measured the height of the front bumper to determine the lifting clearance. Giving the cars a bit of a wobble, we tested the stability of each set of ramps. We then measured the angle and weighed each ramp to confirm manufacturer claims.
Next, we slid under each set of ramps to determine if we could reach the drain plug and if the clearance provided was enough for basic under-car repair and maintenance. Finally, we evaluated the storage capabilities of each set to determine how easy they were to move around and put away.
Advertisement - Continue Reading Below
FAQs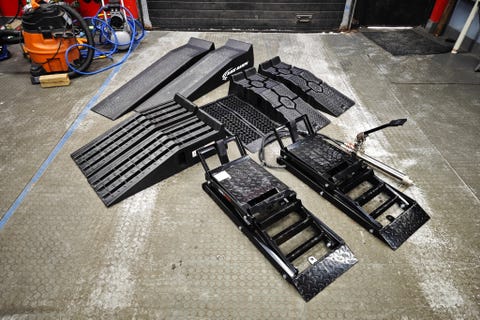 Car and Driver
How do I choose the right car ramp for my vehicle?
When choosing a car ramp, consider the weight of your vehicle, the ground clearance, and the type of ramp you want to use (steel, resin, plastic, etc.). You will need to compare the ramp's weight capacity to the GVW of your vehicle. Lastly, you should always ensure that the ramp has a non-slip surface.
Can I use car ramps on uneven ground?
It is not recommended to use car ramps on uneven ground. Uneven ground can cause shifting or sliding, which could cause your car to fall off the ramp. Use your ramps on a flat, even surface.
How do I safely use car ramps?
Position the ramps on a flat surface and ensure they are stable. Slowly drive onto the ramps, stopping when the wheels reach the top; many have a stop wall to tell you when you've reached the end of a ramp. Once settled, set your parking brake and add wheel chocks behind the rear tires of your car. For added safety, it's a good idea to place jack stands beneath the pinch rails.
Can I use car ramps for all types of cars?
All ramps are not made equal. Some are designed for low-profile cars, others for high-clearance or heavy-duty vehicles. When purchasing your ramp, consider the vehicle(s) you own and what accommodations will need to be made. Always check the manufacturer's recommendations and make sure the ramp is appropriate for your vehicle.
How should I store my car ramps?
Store car ramps in a cool, dry place out of direct sunlight. It is best practice to keep them clean and free of debris, which will help to keep traction for every use. Most importantly, you should always check them for wear or signs of damage before use to avoid any accidents during use.
Why Trust Us
This test was conducted in an environment that provided equal testing procedures for each product: the Car and Driver garage. Upon tallying our findings, we agreed that our test provided enough information to recommend picks to our readers.
Hearst Autos combines the talent, resources, and expertise of three of the largest, most influential automotive publications in the world. The Gear Team has tested a wide variety of automotive products, parts, accessories, and gear, such as EV Chargers, OBD-II Scanners, and GPS Trackers.
We get our hands on each and every product we test. Most products are purchased; some are supplied by manufacturers. We don't need to game SEO algorithms for traffic or promote lousy products solely to make a sale. We're more concerned with our legacy, our reputation, and the trust that our readers have in Autoweek, Car and Driver, and Road & Track to deliver honest opinions and expert evaluations.
Visit our Tested & Trusted page to see the very best in automotive gear. Read more about our product testing and evaluation process here.
Assistant Testing Editor
Katherine Keeler is an Assistant Testing Editor at Hearst Autos. By day she evaluates tools for your enjoyment; by night, she Frankenstein's her ever changing fleet of rust-bucket-oddities back to repair. Her dream is to open a roadside attraction where the public can view, drive, and learn repairs at her emporium of curious cars.